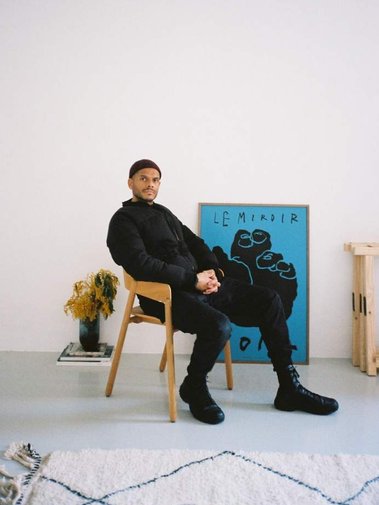 About

Chidy Wayne (Spain, 1981) initially started his professional career in the late 2000s as a fashion designer but soon his sketches and ability with pencils and watercolors made his commissions shift from clothes to drawings. Since then he has been pursuing a successful career as a commercial illustrator and lately exhibits his most personal work in varios galleries across Europe.
-
Wayne is a Spanish Guinean multidisciplinary artist based in Barcelona. Works in various media including painting, sculpture, illustration, music and animation.
Seeking to create work that is aesthetic and conceptual, the superfluous is put aside so as to enter more deeply into the drawing, creating a minimalist and gestural work of art.
Chidy Wayne creates a personal code of signs and motifs of great symbolic significance and his drawings, the result of long philosophical reflection, are created using quick, bold strokes presenting such universal and timeless themes as existence, identity and internal conflict.
Wayne's pieces are influenced by the artistic avant-garde as well as by ancestral and cultural elements, giving his drawings a certain primitive character, although urban art and contemporary forms are also present in his style.
Exhibitions
Nov 2021 - Group Exhibition (Boon Room Gallery) Paris, France
April 2022 - MIROIRS, SOLO EXHIBITION (Grège Gallery) Antwerp, Belgium
Sept 2022 - 21.9 - 7.12, SOLO EXHIBITION (ACX Music) Barcelona, Spain
Nov 2022 - Group Exhibition (Le Réservoir Galerie) Paris, France
Nov 2022 - EGO, SOLO EXHIBITION (We Collect Gallery) Barcelona, Spain
Dec 2022 - EGO Y PUGNA, SOLO EXHIBITION (Palacio de Anglona) Madrid, Spain
Clients
Mango / Yoko Ono / Harvard University / Heirloom / Hackett London/ Kinfolk / The Macallan / Nike / Rowse / Les Izmoor / VOGUE / Tropics / Esquire / Banco Sabadell / Kind Surf / El Corte Inglés
Contact

Belgium - Grège Gallery
t: +32 479127932
France - Boon Room
t: +33 (0)9 67498780
USA - Closer&Closer (Illustration)
t: +1.323.426.4409
General Inquiries